Officer Survey provides law enforcement agencies with the tools they need to build relationships with the communities they serve and measure procedural justice based on officer interactions.
Tools To Help You Succeed
Getting started is easy
Build trust and transform your community — no setup friction, no engineering support, no hassle.
Proven track record
Engagement tools to help you build a better community, with detailed reporting to measure impact on key segments.
Structured for your success
Trusted, reliable partner with the expertise & track record to help you reach your goals. Designed for law enforcement by law enforcement.
Your community has
feedback

. Are you listening?
Quickly launch one or multiple surveys and polls to measure your community's sentiment. Get more context by gathering feedback and quickly identify areas of improvement.
Post-Interaction Officer Surveys
The most comprehensive and powerful tool yet.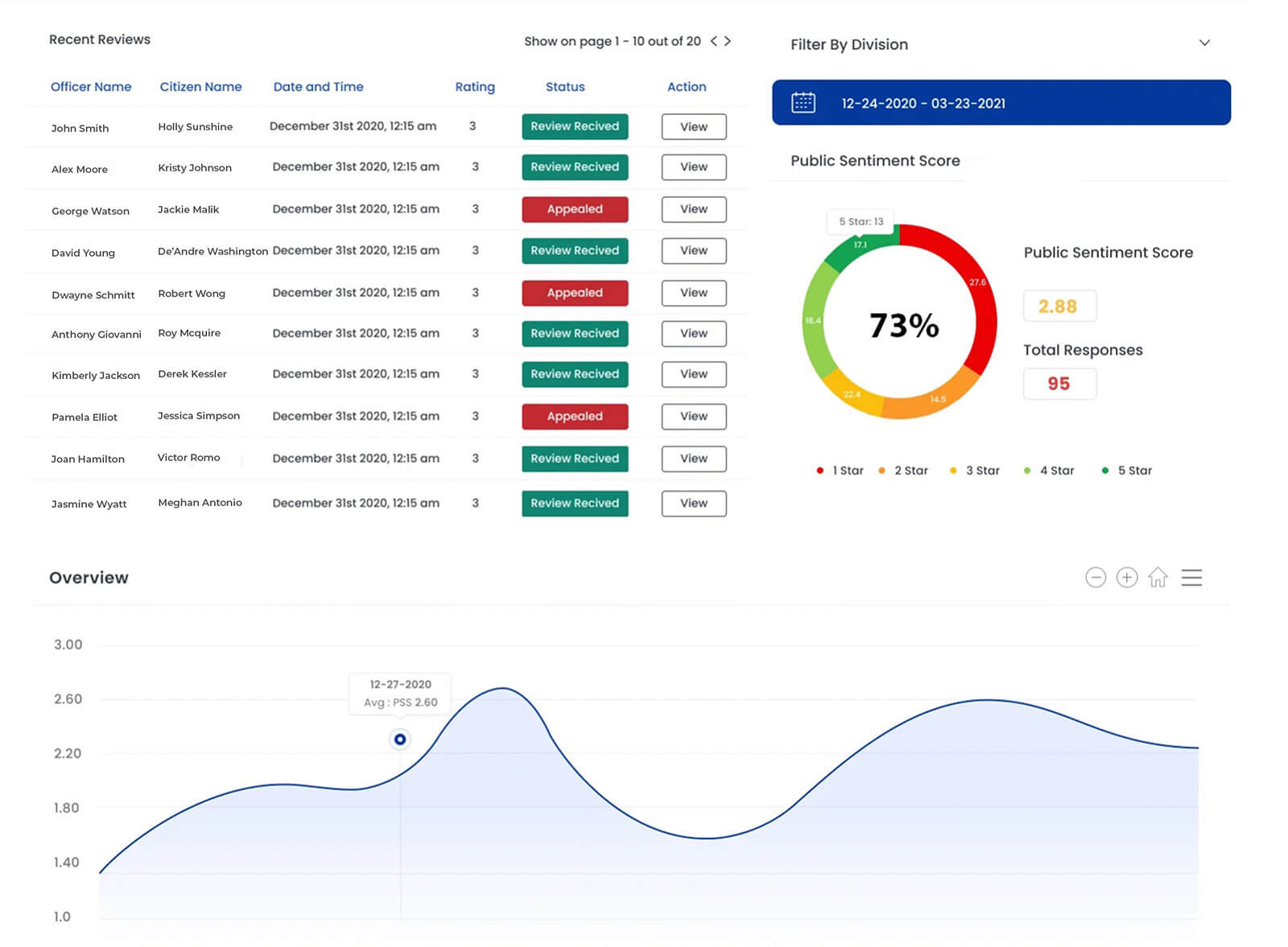 Officer Survey allows citizens to provide instant feedback after every dispatched call, traffic stop, and interaction with the responding officers. Identify and correct problematic behaviors by utilizing our proprietary algorithms. Agencies using our solution have seen a 50%+ response rate with an average overall satisfaction rate of 97% and a reduction in complaints.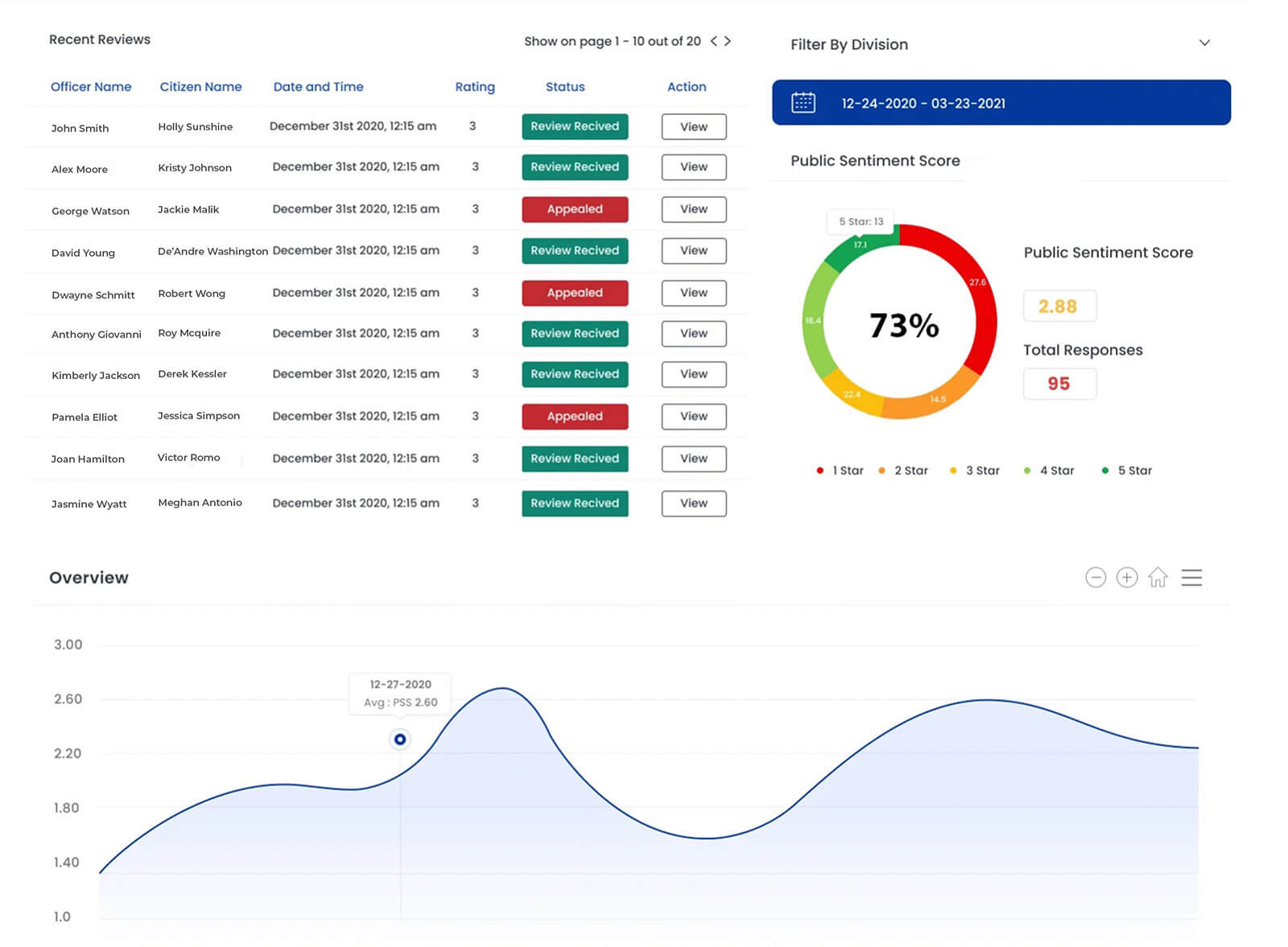 Community Engagement Surveys
Engage with residents and discover the needs of your community. Create customizable surveys on any topic, collect ongoing feedback from your community members and improve public perception of policing.
Employee Engagement Surveys
Gather employee feedback and boost employee satisfaction, create surveys on any topic you desire, and share it internally.
The average cost to recruit, hire and equip a police officer is nearly $100,000. Protect your investment by listening to your officers and increasing engagement. Measure their happiness, understand their pain points, and boost morale and productivity.
Reduce campus crime and build a safer campus
Conduct campus-wide student satisfaction surveys to learn more about their experiences with the campus police and improve satisfaction.
Partner With Officer Survey to Discover What Your Officers Need
What is Procedural
Justice

?
Procedural justice is a concept that examines how police officers interact with members of the community. When the community views police officers as legitimate, they are more likely to comply with the law. They are also more likely to agree with the decisions and less likely to be aggressive or hostile toward police officers.
Procedural justice is a set of four basic actions police officers can take to create trust and legitimacy.
Giving people a chance to be heard.
Ensuring fairness in decision making.
Being fair to everyone involved.
Being transparent in your actions.
What Police Chiefs are Saying
We held events such as coffee with a cop, but typically see people who were more supportive to law enforcement making it difficult to understand the challenges we faced in other communities. There is a need to get feedback from those we directly interact with during our calls for service: this provides the best way to understand the public's perception as to how they judged the legitimacy, competency and professionalism of our department.
So far, I believe we are on track to rebuilding our community's trust and I believe adding Officer Survey to our toolbox has been a strong contributor toward accomplishing this goal.
What Community Members are Saying